Welcome to California Clivias!
Every time I visit Plant Horizons in Watsonville I am overcome with the joy of the place. Thousands of Clivias blooming or not, Plant Horizons is a giant Easter egg hunt for Clivia lovers! You don't get to keep every treasure you find except in photographs but the anticipation of hidden treasure makes every visit so exciting.
I have wanted to open a Clivia shopping website and when Barbara Solomone agreed to let me market some of her plants...well, here is the result! Initially Plant Horizons is the only seller but more will be added over time. All the prices were set by Plant Horizons without input by me. This is the amount they will receive for their plants. Shipping is extra. You can find shipping details on the menu on the left.
When other sellers use this site they may do their own shipping. Since I am doing all of Plant Horizon's shipping, plants will only be shipped every two months. The next ship date is July 2, 2012. There will be no exceptions to this time frame.
Now, as this website opens the plants are random....like walking through Plant Horizons...enter and enjoy the hunt!
Marilyn Paskert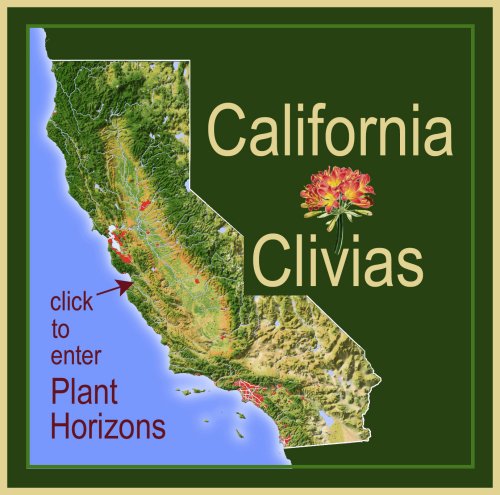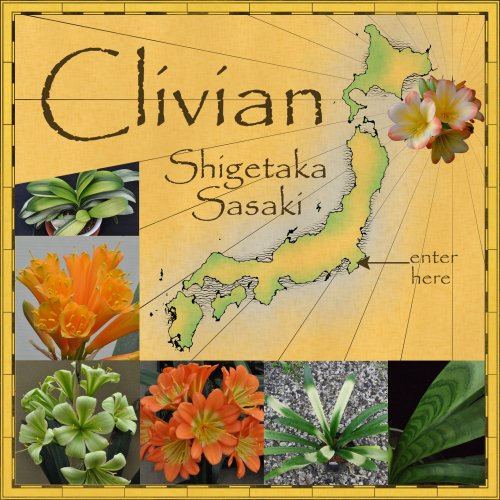 CHINESE SEED SALE IS NOW OVER

Thank you very much to Mr. He and Mr. Han for making their seeds available to us. Thank you to all the buyers who took advantage of this opportunity. Most of all thank you Eddie Pang for facilitating this, taking time out from your busy business schedule to bring these seeds to us is a great act of kindness.

The information and the sale photos will remain on the website until May so that all the buyers have the opportunity to copy photos and text for their records. Thank you very much.

Marilyn

Mr. He Shi Zhong has been growing Clivia miniatas for 36 years in Dongling District, Shenyang City, Liaoning Province, China. Mr. He Shi Zhong is one of the very few Chinese Clivia pioneers who devoted much of their effort to the development of non-orange Clivias.

Mr. Han Zhen Shan joined us with his beautiful particolor series Meng Huan in the CC07 offering but more importantly with 10 seeds of his great Jin Ding, best yellow Guo Lan selfed. Look at the genetics from great Chinese breeding offered; yellow and cream blush, particolor, daruma, monk, painted face , the list goes on and on.


Important notes on some of these seeds:

CC01 Jin Ding, Best Yellow Guo Lan: On offer are 10 units of the self pollination seeds of Jin Ding/Wang Dian Chun No. 1 yellow.
Jin Ding/Wang Dian Chun No. 1 yellow has round tip, light green rigid, upright flat leaf panels and excellent veins. There has been a general belief amongst the Chinese growers that Wang Dian Chun No. 1 yellow is the most superior yellow flowering Guo Lan in China. The name 'Jin Ding' was first used by Mr. He after his acquisition of the 3rd year flowering offset of Wang Dian Chun No. 1 yellow hybrid. Mr. He used the word 'Ding' because it means renowned & most famous. Nowadays, Mr. Wang also adopted the name and calls his No. 1 Yellow 'Jin Ding'. Jin Ding has confirmed germination result of 100% green stem seedlings from crosses with other Wang Dian Chun Yellows. Unfortunately, only a very limited number of seeds are produced from Self pollination.
A complimentary set of one unit each of items No. 9, 10 & 11 (3 seeds) with the purchase of every unit of item No. 1


CC02, CC03, CC04,:CC05:
The pod parents of these 4 crosses are all siblings from the cross F1 (Meng Huan x Little Swan)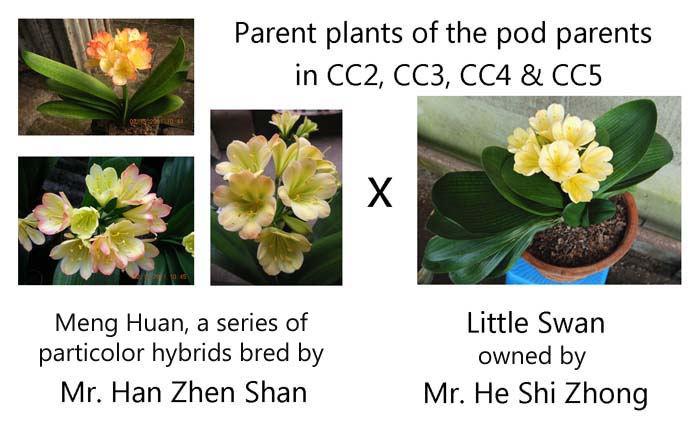 The pod parent photos show the specific parent of each of these crosses.

These crosses are a combined breeding effort between Mr. He Shi Zhong & Mr. Han Zhen Shan. On offer in this Clvias of China sale are seeds which carry the genetics of Parti Color, Yellow Blush Daruma and Yellow/Cream Guo Lan;

Pod Parent - F1 [Meng Huan (Mr. Han) X Little Swan (Mr. He)];

Pollen Parent - the Yellow Broad Leaf Malian Monk and Cream Short Broad Leaf Monk pollens were acquired from Mr. Lu Yan He of Changchun City by Mr. He.

Meng Huan Series is the progeny of [Parti Color hybrid with dwarf Belgium hybrid leaf X Chinese Yellow Short Leaf hybrid] which flowers with yellow blush hybrids' characteristics. Meng Huan is heterozygous for Group 1 Yellow.

F1 [Meng Huan X Little Swan] A - D are compact Darumas which start flowering in cream/yellow and develop the blush &/or the picotee colours during later stage of the flowering cycle. They are crossed with Cream/Yellow Guo Lan in an attempt to improve the leaf shape, texture and quality. There is a possibility of getting green stem seedling(s) because Meng Huan is is heterozygous for Group 1 Yellow.